When you want to accessorize your formal wedding gown but just do not have enough of a budget left to do so with expensive jewelry, you can find online a large inventory that has a variety of unique and gorgeous pieces that will create the outstanding looks that you are striving for at surprisingly inexpensive prices.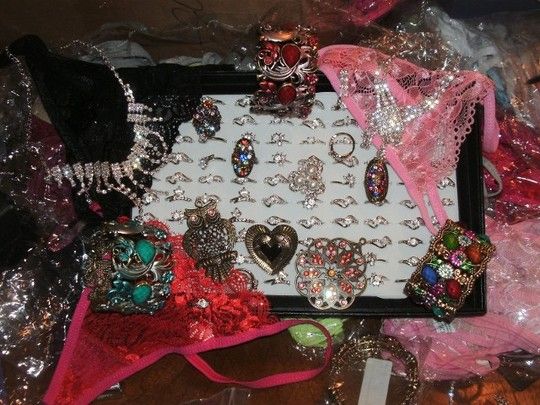 Your bridal ensemble will sparkle with cubic zirconia necklaces, earrings, bracelets, and rings that can give you a fantastic look for an affordable price and make you feel like the "queen for a day" that you truly are when it comes to the wedding you have always dreamed of.
Here are just a few examples of the elegant selection that is available with budget-friendly price tags.
Formal Bridal Wear Necklaces
Although these beautifully designed necklaces can be used to accessorize your bridal wear, you can later wear them for any special occasion. Many feature faux pearls or rhinestones for a spectacular look.
Elegant Modern Necklace and Earrings Sets
Create an eye-catching jewelry ensemble. Match a formal and unusually pretty necklace with cubic zirconia pierced earrings that have hidden soft plastic backs for your comfort.
Clear Rhinestone Bridal Elegance Set
The necklace is adjustable to 20 inches and has a matching bracelet and earrings.
Multicolor Bangle Bracelets
Dress up your wedding wear with rhinestone and cubic zirconia cuff bangle bracelets. One size fits most, and they snap together for quick and easy wearing. They are unique and are unlike the offerings from any other source.
Cubic Zirconia Rings
The selection of formal cocktail rings look similar to engagement rings and wedding bands if you want to go the inexpensive route at this time with more expensive versions perhaps promised for your anniversary.
HEART Ring!
This cubic zirconia ring is very formal and elegant and gives a loving message.
For details and pictures of this type of jewelry, visit Formal By Lisa of Youngstown, Ohio, online. See how distinctive and elegant bridal jewelry sets can be at the same time that it is very easy on the budget.