I just turned 42 years old two months ago. I know I am getting old. I want to grow old naturally. I am not into cosmetics and want to stay natural as could be. I also have a very sensitive skin and buying cosmetics for skin types is not easy thing to do.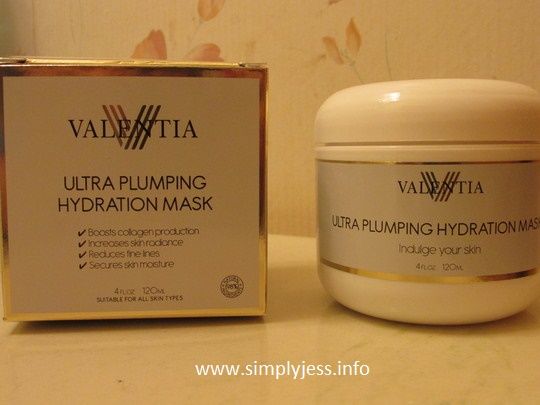 I am so choosy on what to apply to my face or skin. I will get hives for no reason. It drives me crazy. This is one reason that I keep my face naturally fresh with just soap and astringent but not anymore.
I found these Valentia products recently especially the mask and the eye cream. I both gave these products 5 *****'s. They really works and my sensitive skin agrees too.
This Ultra Plumping Hydration Mask is odorless. It is perfect for a woman like me who is fragrance allergic. The cream is not heavy. You can apply little amount to your face. I also applied it on my neck. You can leave it for 15 minutes at the latest. What I LOVED about it is? It does not make my face itchy. I do not see any spots on my face. It is a sign that I have no reaction. After few minutes on my face, the cream works perfectly. I LOVED the feel too. It is soothing and cold. I also LOVED how it feels afterwards. It makes my face looks radiant and smooth.
The key ingredients are silk-protein amino acid blend, botanical hyaluronic acid and organic sea buckhorn oil, Japanese green tea, aloe vera and organic rosehip sleed oil. You cannot beat those natural and organic ingredients. The product is also made in the USA. It is perfect for any skin types even my sensitive skin loves this product.
This ultra plumping hydration mask boosts collagen production. It also increases skin radiance. It also reduces fine lines. It also secures skin moisture.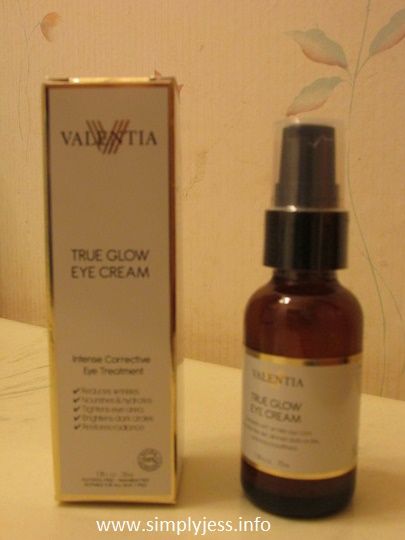 I also LOVE the True Glow Eye Cream . It has a little odor. The odor is not strong and almost odorless. It does not give me headache so it works for me. You ony need a little amount to apply below your eyes. I also applied the cream on top my eyelids. I do not feel any itchiness which is amazing. You really can feel the reaction in few minutes after applying. I really LOVED this eye cream. My eyes really need special treatment after reading or using the computer for a long time.
This true glow eye cream reduces wrinkles. It nourishes and hydrates. It tightens the eye area. It brightens dark circles. It restores radiance. Some of the main ingredients are Vitamin C and Organic Rosehip Oil. It also made in the USA.
You can apply the cream day or night after cleansing. You can apply a small amount to the eye area and using gentle patting motion.
I both LOVED these products. I highly recommend it to all women to add Valentia products to their beauty routine. Both the mask and the eye cream can be found in Amazon.
Disclosure:
I received the products from BrandBacker for being a member and for testing purposes. My review is 100% honestly mine.