Living in the country side is so fresh while enjoying the nature. It is also very warm as it is wide open. Being born brown skin, I get tan easily. I do not mind it. The sun really bothers me. It hurts when it bites your skin. I try to apply sunscreen all over my body while enjoying the warm weather. I know it will not last.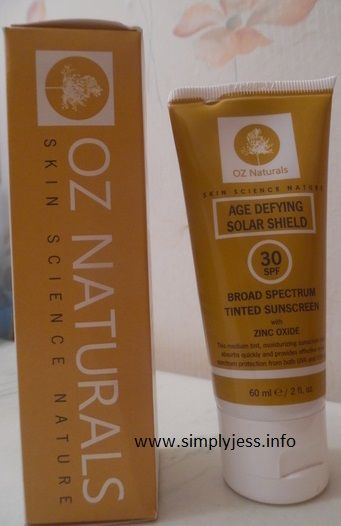 There are so many sunscreen available in the market. We usually apply the sunscreen for that is good for sports as we stay outside swimming by the pool or go fishing by the pond. Though this sunscreen protect, I do not like how greasy it feels to my skin. Sometimes it hurts your eyes when you accidentally rub your eyes,
I am so grateful that Oz Naturals sent me this age defying solar shield sunscreen. It has 30 SPF on it. The color is so different from the regular sunscreen. The shades blend to all skin types which is awesome. It does not have smells. It is not greasy. It is safe to apply for everybody especially to sensitive skin like me. I LOVED all their products. This sunscreen is not exempted.
One ingredients for this is sunscreen is the Octyl Methoxycinnamate & Zinc Oxide which together provide broad spectrum protection. It shields skin against harmful damage caused from both UVA and UVB rays. It is easy to apply just like the regular sunscreens. This help sunburns. It is made exclusively in the USA. You can avail for yourself from Amazon .
I highly recommend Oz Naturals products. I have used many of their products. It works on my skin. You can also check their Facebook page or Twitter to learn more about healthy products or promotions.
Disclosure:
I received the product from BrandBacker . I did not receive any compensation. All my thoughts and opinions are 100% honestly mine.